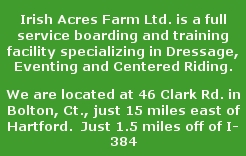 Dressage, Eventing, Centered Riding

Irish Acres offers the following amenities:

Six stall open airy barn with 10X12 box stalls

Wash Stall - Hot/Cold water

70X140 Cover-all mirrored indoor arena with Sand/Rubber footing allowing for year round riding.  Cooler in the summer and warmer in the winter

80X200 outdoor sand arena, jumps available

Directly off the property is a 100 acres of town park with trails throughout.

Individual all day turnout, grass turnout in season

Owner/Trainer Residence on Premises


On Farm lease

Hanovarian

cross gelding,

Winning at open shows, 1st level, has been shown at 2nd level, great teacher.

Stall available 

December 1, 2015

Working student 

position or partial work off board.

2016 Clinic Schedule at Irish Acres

February 20, 2016

CDCTA CR Groundwork Clinic

April 21-24, 2016

Centered Riding Instructor Update Clinic

April 23,24 2016

Open Centered Riding Clinic